PDGA #7438
2008 Disc Golf Hall of Fame Inductee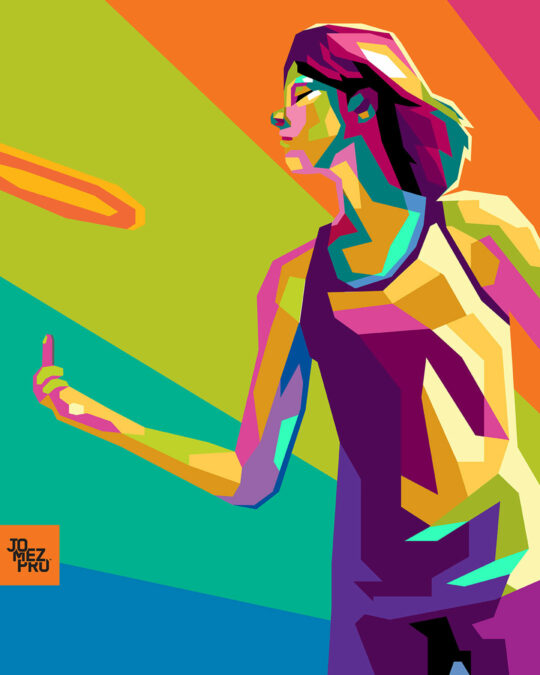 How did you get your start in Disc Golf?
I first saw a golf disc fly in 1992. Before the disc hit the ground, I was already enthralled with the idea of being able to control a Frisbee. Soon after that I played my first round of disc golf during a league night with the Black Hawk Metro Disc Golf League in Cedar Rapids, Iowa. Disc golf fell into my lap at a time where I was unknowingly craving physical competition.
Tell us about your major highlights and achievements in Disc Golf.
1995 PDGA Am World Champion
1998, '99, '00, '01, and '03 PDGA World Champion
I am the only woman who has cashed in a men's major
(2001 USDGC)
226 career PDGA wins out of 318 events
(71% winning percentage)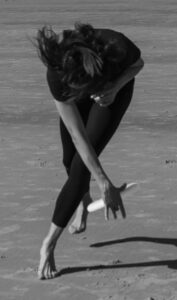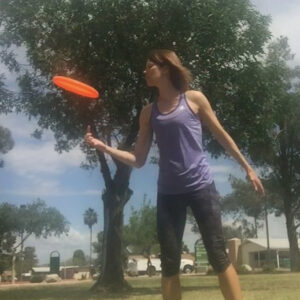 Though not disc golf specific, the skills I learned playing disc golf eventually propelled me in the world of Overall Flying Discs. I started training for overalls in 2014 and have won every US Open and WFDF World Flying Disc Overall World Championships since. I have 4 WFDF Flying Disc Overall World Titles. The overall then sparked my interest in Freestyle and I am currently the top ranked FPA (Freestyle Players Association) in the world as well as the current FPA Women's Pair World Champion with partner Ilka Simon from Cologne, Germany, and the current FPA Mixed Pairs World Champion with partner James Wiseman from Raleigh, NC. I am also the current DDC World Champion with partner Beth Verish.
How would you describe your approach or mentality to the game?
Evolving. I've been playing the game so long that it has served multiple purposes for me. It has been a challenge, a love, an obsession, a job, a provider, a network, and a weight.
I continue to be grateful for all of the amazing gifts, most in the form of relationships and people I have met over the decades, that disc golf has given me. But I need to maintain a balance and not let it consume too much of me. I love the sport and always will, but my place in it now has more emphasis on enjoyment than regimented work.
What is one important lesson you've learned from your time as a professional athlete?
Disc golf gave me the strength and the confidence to know that I am enough and that I am not lacking no matter how I do whatever it is. I can't imagine a larger lesson.
I am introverted. I used to be scared of the world. In grad school I married my then boyfriend as a shield to fend off the scarier parts of the world as the responsibilities of adulthood came screaming towards me. He was controlling and sometimes belittling. It was a joke in our house at how I couldn't do things as well as he could. I'm talking about trivial things such as folding clothes. It was a strange place to be in, sometimes I felt lucky that I had him to show me how to do these things and to make sure I was doing them correctly. Other times I was horribly embarrassed as his family would laugh about something I wasn't good at (like wearing makeup). Eventually he started criticizing my disc golf game. Mind you, I taught him how to play. One day something just clicked and I internalized the fact that at that second, I was the best female disc golfer in the world. I was excelling at this thing, this thing that I was still being put down for and I realized that was complete crap.
Then I realized that if he was wrong about disc golf, he very well could be wrong about everything else. Disc golf gave me the strength and the confidence to know that I am enough and that I am not lacking no matter how I do whatever it is. I can't imagine a larger lesson. That relationship didn't last much longer.
Do you have any tips for beginners or specifically women getting into the sport?
Don't try to learn too many discs to begin with. Get a midrange and work with it until you can make that disc go straight, left and right. When you have that control you are ready for a driver.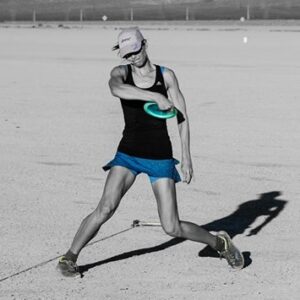 In your opinion, what are the best things about Disc Golf today and what could be improved upon?
For me the best thing about disc golf is the Frisbee Family. It has always been my experience that there is an instant connection with other disc golfers. I never dreamt I would have so many friends and that network would reach around the world. I'm a strong believer in pushing all disc sports. Disc golf is a fantastic sport, but it falls under the umbrella of flying disc sports and if you like disc golf you will probably also like some of the other disciplines. I wish there were more opportunities for today's disc golfers to see and try some of the other disc sports such as DDC (Double Disc Court), Freestyle, Self Caught Flight, and Discathon.