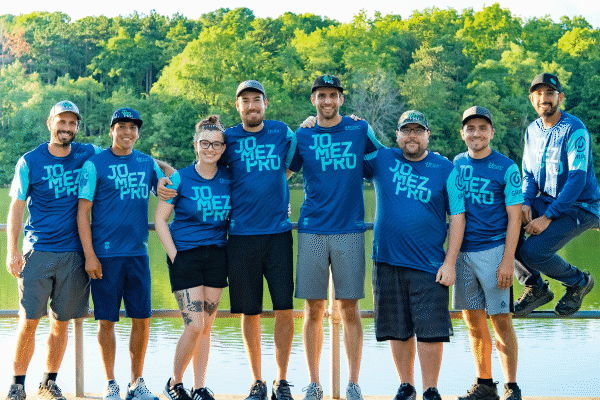 Imagine going to the PDGA World Championships and being the only one with a video camera…well that's exactly how JomezPro began!
Jonathan aka Jomez, was attending 2012 Worlds in Charlotte, NC to play in the Am division and after his round he decided to spectate the Pro lead card which featured Will Schusterick, Michael Johansen, Ricky Wysocki, and Paul McBeth!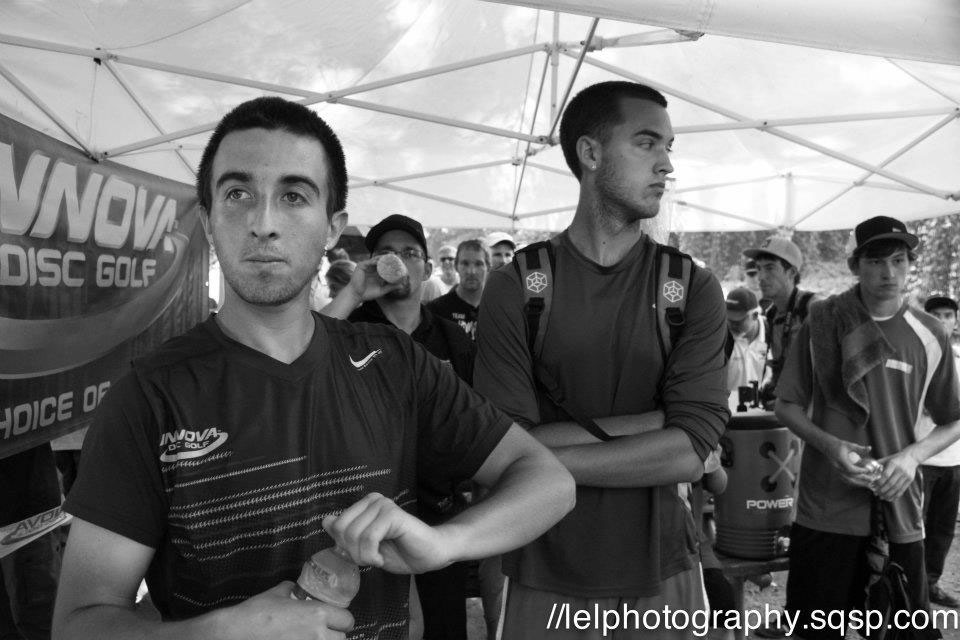 Jonathan spotted in the back far right at the 2012 Pro Worlds.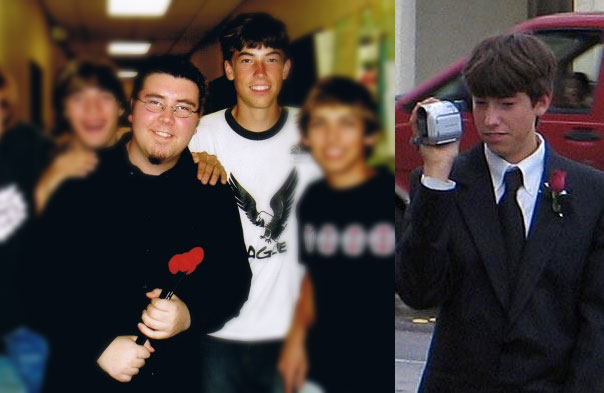 Jonathan and Michael back in the day.
He didn't see anybody else filming so he decided to risk it and begin rolling, constantly checking over his shoulder to see if anyone was going to say anything. They didn't, so he filmed the entire final 9 holes! He put the video on his YouTube channel, which at the time had a couple music and wedding videos, and that was the beginning of JomezPro as a Disc Golf channel.
He then made a GripEQ backpack review and soon found himself filming at different tournaments with his childhood friend Michael Fouché aka @FollowFlightMike. They started traveling together and as things grew they asked Jerry Gomez to grab a camera and join them. Now 7 years later with the support of the Disc Golf community he's been able to grow the company to an 8+ person crew which has 3 full-time traveling members, 5 part-time traveling members, and many others who are instrumental in the channel's success.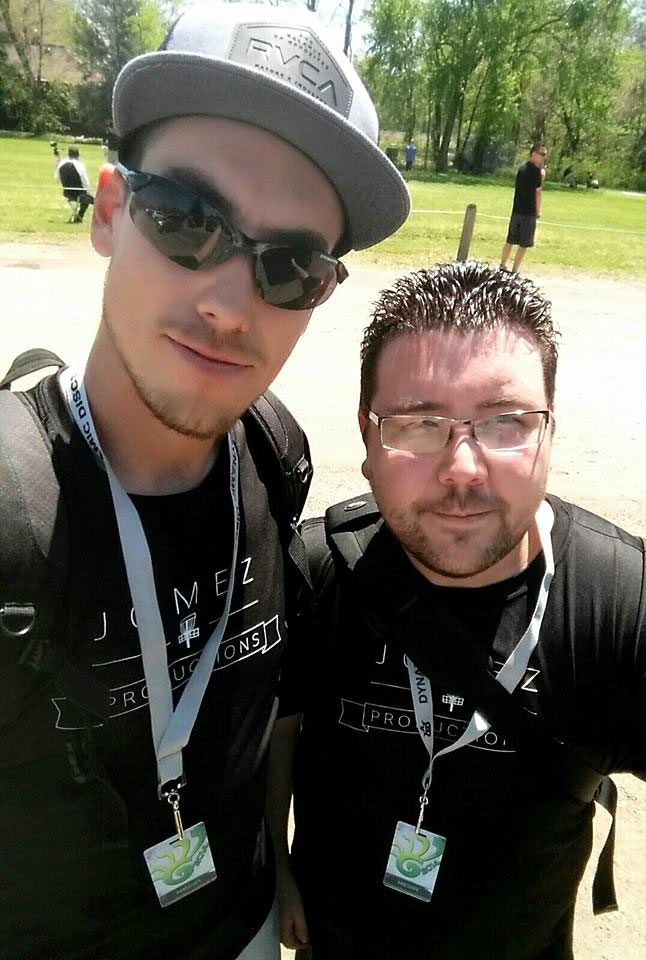 Jonathan and Mike at 2014 GBO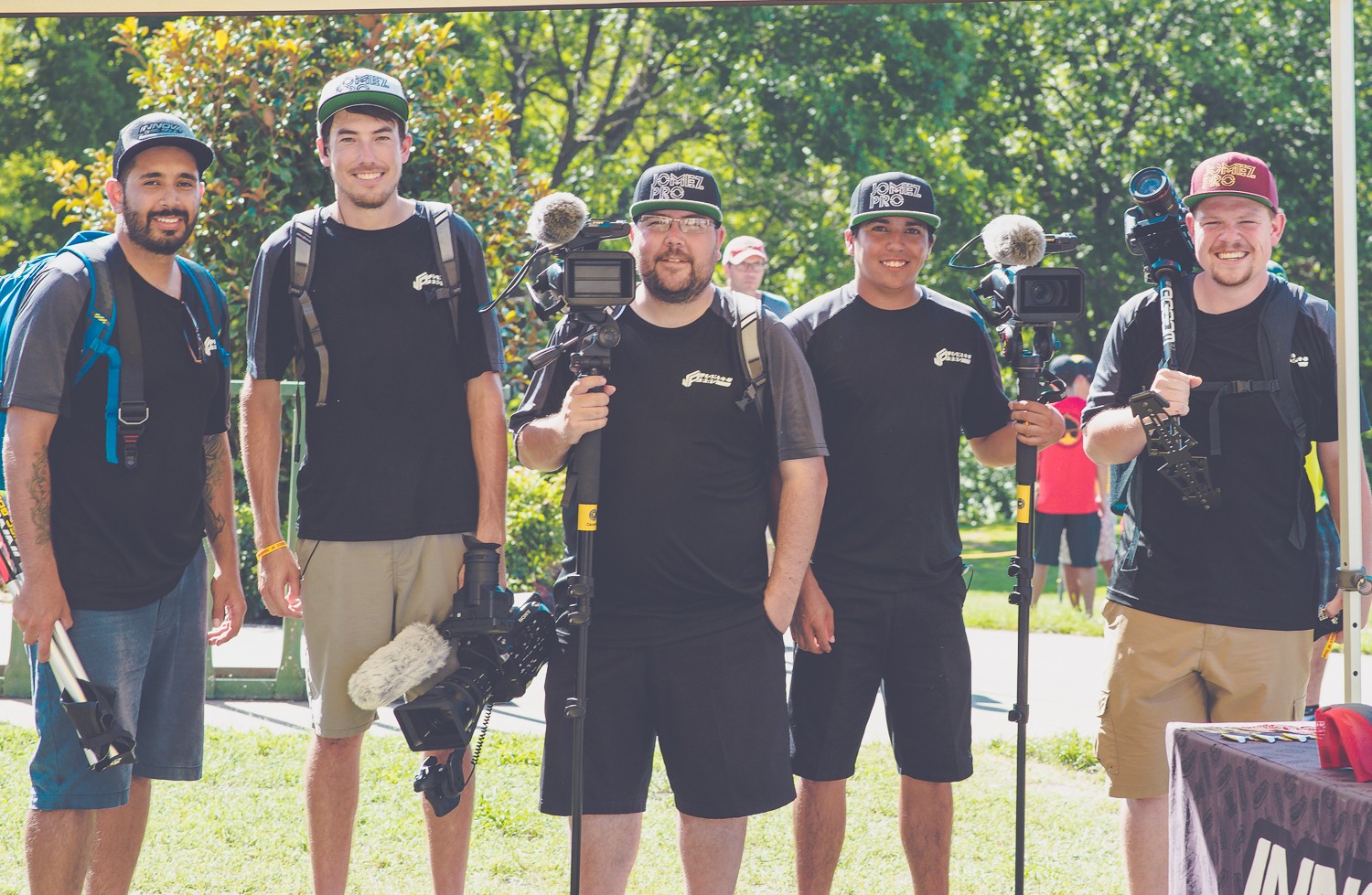 The crew at 2016 Worlds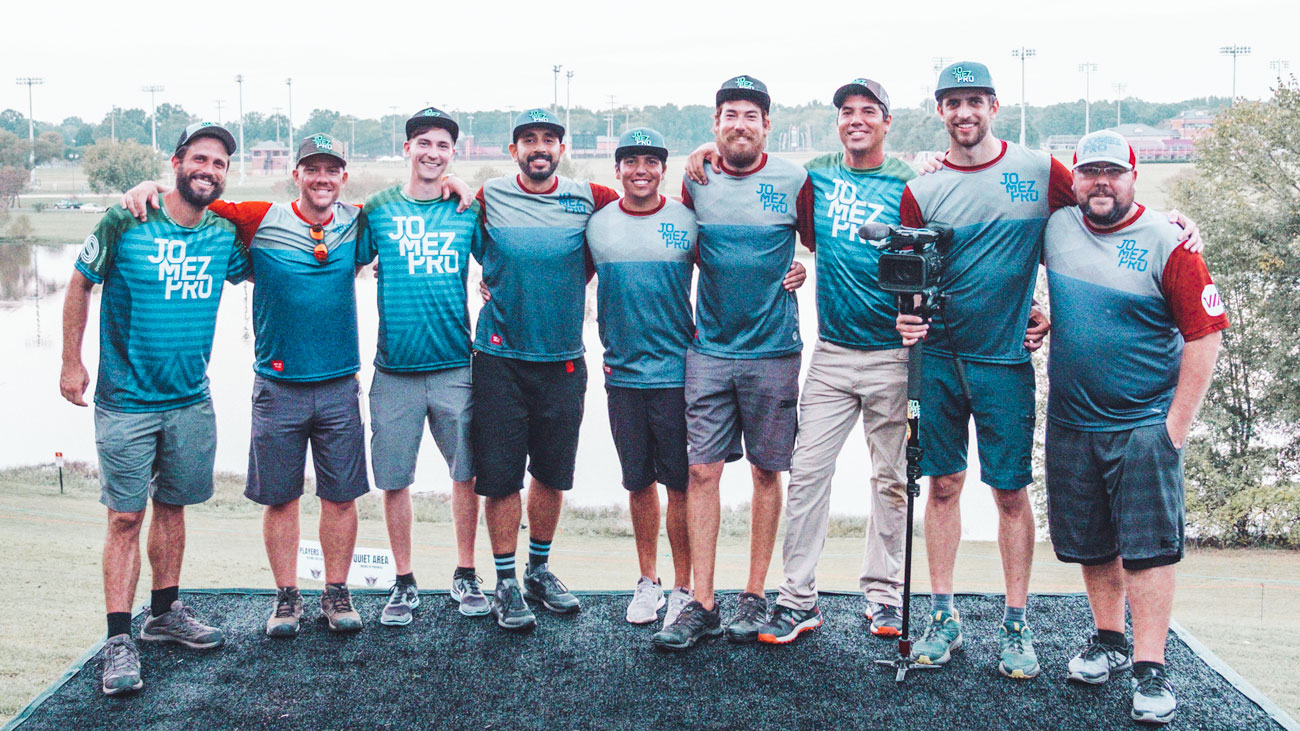 9 person crew at 2018 USDGC
So what's a "Jomez"
/joe-mez/

anyway?

"Jomez" was the nickname given to Jonathan by his co-workers at a summer camp that he worked at with his brother in 2007. Everyone called his older brother Chris "Gomez" so they used it as a way to differentiate the two.

Below are a few of the logos that have been used since the beginning!

THE CREW
The reality is that you and everyone else who watches is an important part of JomezPro. If it wasn't for your fierce support we wouldn't be able to stay dedicated to this amazing community. These are just a few of the crew members who eat, sleep, and breathe Disc Golf on JomezPro.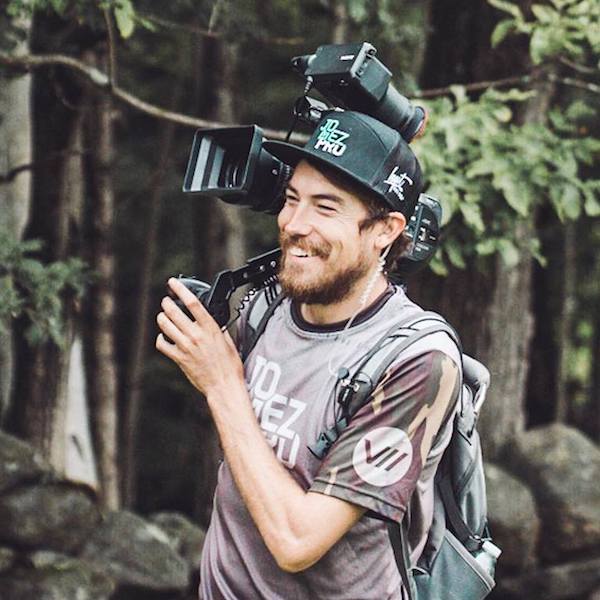 Jonathan Gomez, Founder
Jonathan Gomez fell in love with filming back in high school. He and his friends would watch skateboarding DVDs and get inspired to grab their Sony Handycams to film themselves skating at the local park. He learned to edit on Windows MovieMaker and would show off his edits to his friends and family (before YouTube) and just like that his passion for entertaining people through video was born.
He began playing Disc Golf in 2004 when his brother, Chris introduced him to the sport. His first disc was an Innova DX Valkyrie that he still has to this day. He continued to play Disc Golf while attending college at Angelo State University studying TV Production. He decided to take his passion for video production to the next level in 2007 when he bought his first professional video camera, a Canon XH-A1, using extra money from his student loans. He began searching for freelance work doing commercials, weddings, and pee-wee football games under the name Jomez Productions.
For the next 5 years his two main passions: Filming and Disc Golf ran alongside one another, but the two never crossed paths. That is until Jonathan received an invitation to play in the 2012 Amatuer World Championships in Charlotte, NC.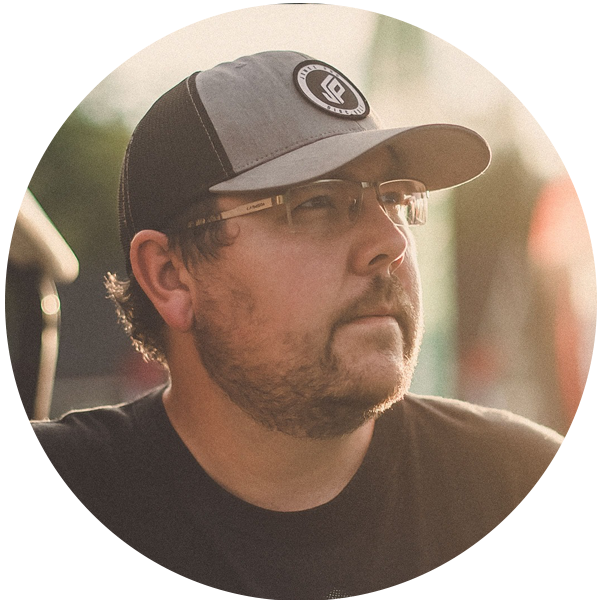 Michael Fouché, Cam Op/ Editor
Better known as @FollowFlightMike. He's the man behind all those crazy FollowFlights!
Born in Johannesburg, South Africa he moved to Texas in 2001 where he met Jonathan. They've been friends ever since and haven't stopped making videos and music together.
These days Mike handles quite a bit of the workload from catch cam to editing, commentary audio mastering to tech support, and all-around problem-solver.
When he's not dodging discs, you can catch him playing the guitar or following his love for photography.
What simply began as weekend getaways during the Texas swing of the 2015 season acting as waterboy for Jonathan and Michael would soon turn into a life changing decision. Fast forward to 2016 to Brentwood Park in San Angelo, Texas when Jonathan had the wild idea of wanting to expand the team to a 3 camera production.
Jerry was then tasked with the responsibility to learn how to run a camera (a DSLR at that!) in just a few days with the Nick Hyde Memorial quickly approaching. Having successfully survived his first tournament weekend they felt comfortable that this decision surely paid off.
If you're not catching Jerry behind the lens you can expect him to be playing Disc Golf, drowning himself in Netflix/Hulu, shooting pool with some buddies, fishing, enjoying the outdoors in general or simply partaking in an adult beverage!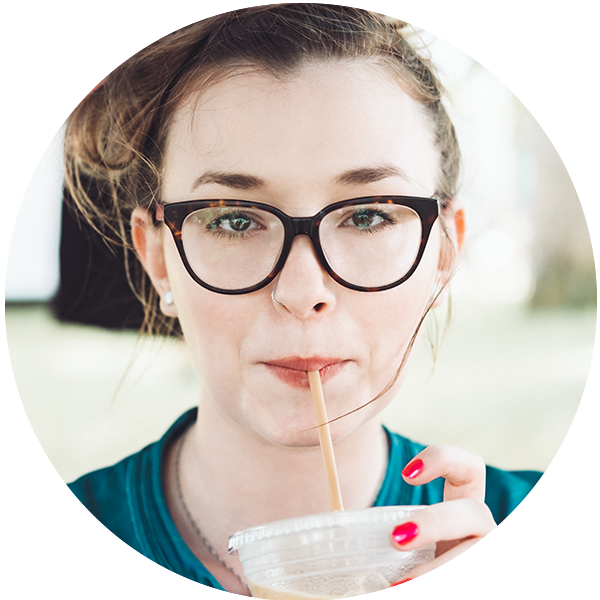 Christina Lee
Christina joined the team in 2019 as a graphic designer and tour manager. From designing the occasional JomezPro t-shirt or stamp (she designed the SloMez!) to running day to day operations she contributes to the success of the channel in many ways. She's engaged to Jonathan and looks forward to marrying in the near future!
Chris Gomez, Merchandising Manager
Chris began playing in 2004 when a co-worker asked him if he wanted to play frisbee golf. Chris thought it was one of the dumbest things he had ever heard of. After winning his first round and finding an unmarked Champion Edition 4x JK Valkyrie, he was hooked. Not long after, he introduced Jonathan and a few friends to this addictive new sport.
Chris helped expand the tour schedule by incorporating the JomezPro Final 9 events to give amateur players the professional experience JomezPro offers. He has also contributed in creative aspects such as coining the term "SloMez", suggesting flight tracking (which Michael has taken to the next level), and expanding the JomezPro inventory.
Currently, Chris' primary role is the Merchandising Manager that handles all sales, inventory, and forecasting of merchandising endeavors. He occasionally joins the crew as a cam op for larger events such as the GBO and USDGC.
Chris has been married to Kate for almost 15 years and they have five children ranging from ages 3-12. They are instrumental in making it possible for Chris to stay active with JomezPro. They are huge supporters and love their uncle Jonathan very much!
Chris lives in Waco, TX and works full-time at Baylor University for the Campus Recreation department. He hopes to one day build a private course with Jonathan and even begin a collegiate team at Baylor University!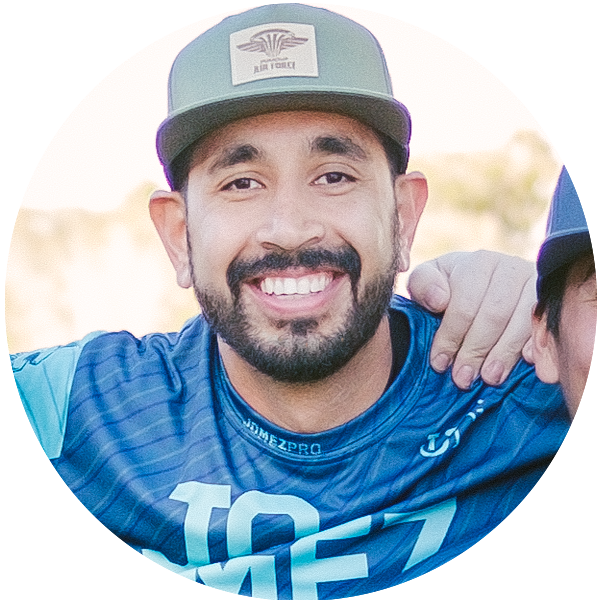 Juan Luis Garcia, Creative Director
An entertainment photographer, movie poster designer, avid sports watcher, and now Disc Golf addict. Juan was introduced to the sport in 2014 by his friends Rene and Gabe. After playing a couple rounds he moved to a new city with his family where he was lucky enough to find a lefty friendly course just down the street from their new home. He made a bunch of new friends and that's where the real obsession began!
Playing every day turned into wanting to merge his passions of art and Disc Golf so he started @overstable. Around that time, he also reached out to Ian from CCDG and redesigned their logo. His first paid gig was to shoot photos of Paul, Eagle, and Simon for the DGWT! He met Jonathan and Michael around the same time and that's when they decided to partner up. Their first endeavor together was the 2016 Pro Worlds in Emporia.
He designed the current JomezPro logo and tournament graphics package and is also currently in charge of daily social media posts. He's put Overstable and his entertainment work aside to work with JomezPro full-time.
Check out some of his non Disc Golf work at UnsupervisedKids.com and JuanLuisGarcia.com
Kyler joined the team in early 2018 to help with the marketing efforts. His first mission was to redesign the JomezPro website and build it into what it is today. You may not see him around, but you will notice his work throughout the interwebs helping grow the sport and the JomezPro brand.
He first got into Disc Golf when a friend invited him to toss some discs around. Then he saw it as an opportunity to hang out and enjoy time with his brother. It was much better than watching movies or going out to eat all the time. Now he continues to buy discs that he know he's not prepared to throw, but continues to do it anyway.
Jordan started playing disc golf in his home state of Vermont during the summer of 2012. He lost his first ever driver (champ groove) in a ditch on his first throw and he's been hooked ever since.
Six years later, he was presented with the Disc Golf opportunity of a lifetime: A chance to film with JomezPro. After learning the finer details of catch cam operation during 2018 Pro Worlds, Jordan continued his rock steady efforts at the 2018 USDGC where he captured Paul Ulibarri's ace on the infamous Hole 17. He looks forward to bringing more quality coverage to disc golf fans around the world this season.
Brian Guice's roots in Disc Golf go back to 2003, when he learned to play in windy Wyoming. After years of working as a freelance videographer, he discovered Disc Golf media in 2015.
Since then he's been determined to help grow the sport by combining his passions for Disc Golf and filmmaking.
Want more? Check out these videos!